Personal Statement Paramedic Science Example Of A Solution
LAST WEDNESDAY, WE anticipated a busy day in the Students' Union, as thousands of students across the country opened up the flimsy brown envelopes representing two years of toil.
Leaving Cert results are a spectator sport in Ireland – the whole country stops to reminisce and joke about that tense day we all endured, and an unlucky few are forced to pose, results in hand, for awkward stock photos that will haunt them for years.
On results day we fielded calls mostly from parents – proud parents, whose children were in the "safe zone" and were likely on a path to Trinity, and the more anxious ones who wanted to know if we had an indicator of the CAO points yet. We couldn't say for sure, we told them, and parents and students alike faced a long five days' wait to today's CAO offers.
Today's offers confirmed what we all suspected – points rose in several courses in Trinity, as they have annually for the past five years. In particular, law and courses in the engineering, maths and science faculty have gradually climbed. The fight for college places has only grown tougher each year. More and more people are calling for a reform or overhaul of the CAO system, with personal statements mooted as an option, as in the UK.
Personal statement
Trinity recently developed its own alternative admissions scheme along these lines. 25 places were offered to students based on their Leaving Cert points, a personal statement, and their relative performance ranking in their school. This particular scheme offers better opportunities to those in disadvantaged or rural schools, where the overall performance might not be as high as in a typical Dublin private school. Similarly, access programmes and the DARE scheme provide places for lower-point students from disadvantaged areas or with learning difficulties. Perhaps a broad approach such as this, accounting for socioeconomic and personal factors could be a fair complement to the CAO system.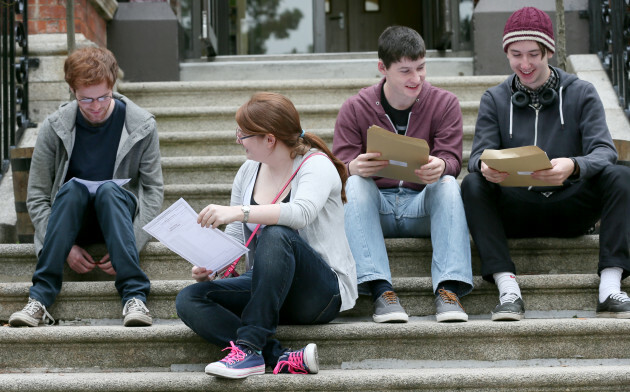 Students receiving their Leaving Cert results at Stratford College, Rathgar, Co Dublin last Wednesday Source: Laura Hutton/Rollingnews.ie
However, the rise and fall of points isn't just due to the system itself. It's down to a constant increase in demand each year. Colleges, already overcrowded and tight on cash, simply can't accommodate all of the students seeking admission. Courses across the board are cutting modules and academic staff. In the National College of Art and Design, student numbers have sharply increased, as have fees for "materials" and postgraduate courses.
Controversially, the college introduced a €15 fee for the college health centre, a decision criticised by students and the college doctor. Colleges can't afford to offer their students the services they deserve, and the situation is only getting worse. State funding in higher education has dropped by a devastating 32% in the last six years, and it's the most vulnerable students who are paying the price. Whether they're dodging the doctor because they can't afford to pay or dropping out due to repeat exam fees, even the smallest charges can have catastrophic effects on their education.
First choice is never your only choice
All this being said, the CAO isn't the end of the world. Your first choice is never, ever your only choice. Within universities, there's plenty of scope to change course or develop your skills outside academia. Didn't get the points for business? Why not get involved with the college entertainments crew, promoting nights and selling tickets to develop the skills that will make you stand out to employers in three years' time? Didn't make it into film school? Get involved with your campus TV station or film society, and learn the skills yourself.
If you've always had a passion for law, but didn't get the points, head into the library and dig out the books yourself, or take an extracurricular course. College is about so very much more than the time you spend in the lecture hall or library. You may never work in the area you studied, but the friends you make and the experiences you have will stand to you in ways you never thought possible. So be proud and celebrate today, whatever your options are – you've worked hard and you'll never have to listen to the voices on the Irish aural again.
Aifric Ní Chríodáin is a graduate of French and Film Studies at TCD, and is currently the Communications and Marketing Officer for Trinity College Dublin Students' Union.
Read: You can find all of the Round One CAO points right here
Read: Students face battle for places as number of 500 point CAO courses jumps up
Paramedic Science Personal Statement
During the course of my studies, I have discovered a distinct passion for science, particularly biology and chemistry. This is a passion enhanced by extensive personal study, in addition to my GCSE and A level courses, of a range of texts on subjects such as biochemistry, physiology and pathology. This passion for medical science is a driving force behind my desire to study this course, coupled with the challenge of this route and the desire for a rewarding and worthwhile career.
I have taken work experience at QEII Hospital, where I observed many aspects of the medical and surgical teams in various departments. I learnt a lot about the relationships between patients and medical professionals, and various aspects of medicine, whilst meeting some remarkable patients and inspirational nurses and doctors. This period greatly increased my desire to follow a medical path; however I vastly preferred the more dynamic experience I encountered with the emergency medical personnel, particularly the paramedics. I have since then volunteered on the busy Medical Assessment Unit as a ward assistant, aiding in patients' non-medical care.
I decided to take a gap year, during which I am currently gaining invaluable clinical experience working as a clinical support worker for NHS Professionals. In this role I am responsible for patients' day-to-day care, supporting the nursing team. It is a challenging, yet fulfilling job, in which my team work and interpersonal skills are tested daily.
For about 18 months I worked as a volunteer support worker with special needs children for a charity called Inclusive Play Opportunities Project, which aims to help these children by integrating them into mainstream play schemes with the help of support workers and support groups. I was often required to assist in the care of the children (from personal care, to confidence building, to assisting in procedures such as administration of diazepam during status epilepticus). I also assisted in the organisation of many activities including youth groups, residential trips and play schemes. I found this an incredibly enriching and rewarding experience, whilst learning many fundementals of care. Seeing the children experiencing things they normally wouldn't and integrating with mainstream children was very fulfilling.
I was a member of the Sea Cadet Corps for three years, before leaving to focus on my academic studies. During this time I learnt invaluable skills like discipline, responsibility and the vital importance of team work. I achieved several qualifications in areas as diverse as drill command, engineering and music. I particularly enjoyed participating in survival camping expeditions, which were arduous tests of teamwork and practical skills of problem solving and communication. I achieved a first aid qualification of Royal Naval Level 2; this led to me being appointed first aider at the cadet unit and first aider in the field when on expeditions. I greatly enjoyed the training I received especially in method of resuscitation, administration of emergency drugs and observing emergency procedures such as needle thoracostomy. These three years have imbued me with a strong sense of teamwork, leadership and responsibility; qualities I believe to be essential in a potential paramedic.
I am a diligent and dedicated student; I enjoyed studying all of my A level courses immensely and hope to extend this commitment and enjoyment to studying Paramedic Science. I will be pursuing my personal study and am greatly looking forward to my experience at University. I fully accept that this route is a life long commitment, full of daily challenges and accomplishments; I look forward to facing them.
Universities applied for:
Comments
General Comments:
Comments on the statement:
---
Article by TSR User on Thursday 15 February 2018